Brandcare provides a number of services to ensure your
brand integrity.
Brandcare installation and maintenance employ accredited installation teams Australia-wide and throughout the Asia Pacific Region. These highly skilled professionals are responsible for all on-site activities including site surveys, installation of signage, scheduled preventative maintenance and maintenance on demand.
All our tradespeople have successfully completed our Preferred Contractor Agreement, which requires completion of an accredited program tailored specifically for our industry. The agreement also provides auditable processes to comply with all EH&S requirements – meaning you don't have to worry about a thing. Your signage will be expertly and safely installed in the right place at the right time.
To protect your capital investment and maintain a brand image of the highest quality, we recommend a Preventative Maintenance Agreement. These extended warranty programs are tailored to suit each individual customer and ensure that your investment and corporate identity stays looking good for the life of the sign.
Your maintenance agreement details the scope of work and responsibilities agreed upon, for us to undertake maintenance of your signs. The timeframe typically is between 1-5 years.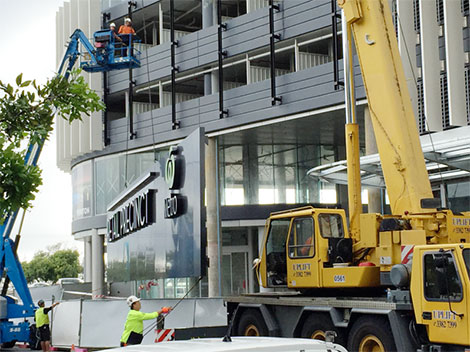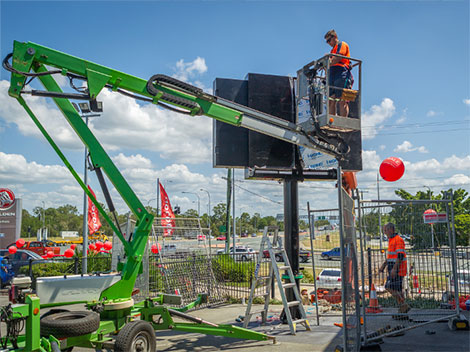 Dirty, damaged and badly illuminated signs are a poor reflection of your brand identity in the eyes of your customers. With programmed preventative maintenance, your signage will continue to represent the quality image you need to portray. Additionally, you will be meeting the material and/or component manufacturer's conditions – a requirement to enable a claim within their warranty period. Many component manufacturers offer as much a 5, 7 and 9-year warranties on their products if maintained correctly. This will ensure the maximum life of your signage.
Brandcare Protection 24-Hour Hotline
On-demand maintenance is an Australia-wide repair service supported by a 24-hour Hotline. Whether your sign has been damaged by vandals, accident or storm – or simply requires replacement lights – just call the Brandcare Hotline. The signage experts at Brandcare will have your sign back in top working order and condition in the shortest possible time.